What Does The Empathy Symbol Stand For?
The Empathy Symbol stands for two "sides" reaching out to each other, and opening up to try to truly understand the other's experiences and feelings. It could be two groups of people: men and women, blacks and whites, Jews and Muslims, fundamentalist Christians and atheists, Israelis and Palestinians, gays and straights, old and young, able-bodied and disabled, immigrants and native-born, and so on; or it could be two individuals: spouses, neighbors, co-workers, etc.
The Original Empathy Symbol, created in 1973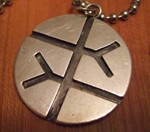 People have asked about the origins of the empathy symbol. I was a college student, active in the anti-Vietnam war movement. I was contemplating the peace symbol I was wearing, when suddenly the idea for the empathy symbol popped into my head, full-blown. It felt as though it had been given to me, and I have felt spiritually charged to bring it to the world ever since. Deb Ellsworth
Featured Empathy Promoter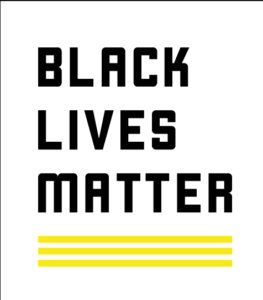 Black Lives Matter is an activist organization that is "committed to struggling together and to imagining and creating a world free of anti-Blackness, where every Black person has the social, economic, and political power to thrive." it was created from the outrage over the murder of Trayvon Martin in Florida in 2012 by a white "neighborhood watch captain," and has since grown into a world-wide movement. BLM has recently furthered a huge awareness across the United States–and in the rest of the world–of the extent that police and and other governmental institutions use systemic racism and oppressive tactics and policies against Black people, indigenous people, and other people of color (BIPOC).
The blatant murder of George Floyd by Minneapolis police officers sparked this new empathetic awareness. Floyd's murder happened not long after Breonna Taylor, a Black woman sleeping in her home in Louisville, Kentucky, was shot to death by invading police, and Ahmaud Arbery, a young Black man jogging in Brunswick, Georgia, was shot by white vigilantes.
So why are we calling Black Lives Matter a promoter of empathy?
The increased awareness of these issues among white people following George Floyd's murder has spread around the world. White people are asking, with genuine concern: what can we do? And the answer, from so many Black people, is LISTEN.
White people are being asked to turn on their empathetic hearts and minds; to be quiet and reach out; to open up; to listen.
To try to feel and understand something of what the Black experience in America is like.
To hear the testimony from Minnesota Representative Ruth Richardson, for example, as she tells how she feels as the mother of a Black teenager to have that feeling of fear grip your heart from the moment he walks out the door until he is safely back in the house again.
To hear Black celebrities, athletes, politicians, university professors, esteemed writers and artists, and so many others, testify about getting stopped by the police for no reason (often, because they "looked like a suspect in a robbery"–even when the only resemblance was that they were Black), and knowing that one wrong move or word, or nothing at all, could be a fatal turn in the encounter.
What does that feel like? What does that do to people going about their everyday lives, with that awareness in the back (or forefront) of their minds? White people are called, at this time in history, to truly listen and be empathetic to all of this.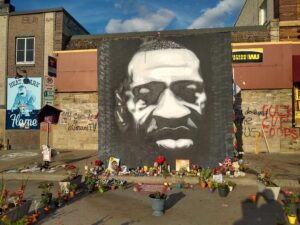 On a personal note, we visited the memorial site where George Floyd was killed, and it was tremendously moving. It was impossible not to become overpowered by the awareness that this is where this man died, crying out until the end that he could not breathe. The emotional impact slammed us. Sometimes empathy creates a feeling that is almost more than we can bear. But it is important not to turn away from it.
Black Lives Matter.
See our previously featured Empathy Promoters.

New!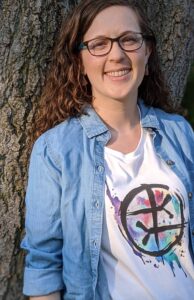 Check out our new page, Empathy Symbol in Action! See how the empathy symbol is being used in many ways, from artwork to clothing to logos to inclusion in books to more. There are so many ways to express and share the core value of empathy!
New products! Let everyone know what the empathy symbol means. Let everyone see your commitment to a more empathetic world. We are offering 1.5″ buttons and three-inch sew-on patches. You can also get the image for you to use for free however you might like.
Empathy News
For more information about the empathy movement, read Empathy Magazine –an online collection of the latest news about empathy from around the world. Curated by Edwin Rutsch
Join the conversation on the Empathy Symbol Facebook Page!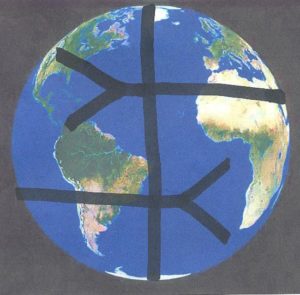 Check out our Facebook page, and Follow and join the conversation. Posts about the value of empathy in our polarized world; how to promote empathy; and especially posts to further our own empathy toward, and understanding of, others.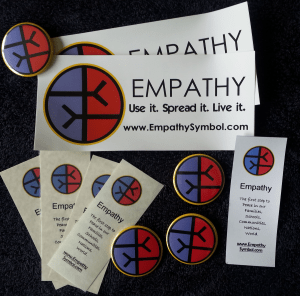 Help spread the value of empathy! We will send you up to 30 bookmarks printed on cardstock, and/or up to 10 bumper stickers, for free! contact us with your address and what you would like.
Using the Empathy Symbol
A German artist named Caro created this piece of art using the empathy symbol. Others are incorporating the empathy symbol into their logos (with our permission obtained.) We are looking for artists and craftspeople to help spread the value of empathy via items they create–jewelry, mugs, phone case covers… Please see below for how to obtain our permission to do so, under the Creative Commons License.
Use of Empathy Symbol is subject to a Creative Commons License. Find out more.